Press
REVIEWS
---
Praise for Der Zwerg, Los Angeles Opera

"there was some luxury casting: Susan B. Anthony, a major interpreter of the German repertoire, sang Ghita, the Infanta's maid , infusing the ending with a nobility of tone that lent the Dwarf's death a heroic dimension."
Opera News, April
---
Mostly Mozart
"Concert rewards expectations"
".....A dazzling blend of oratorio and opera, Mozart's work in four parts makes special demands on the soloist.....Anthony sang the runs clearly, capping them with precise trills and ornamentation. Se tossed off fully sounded roulades effortlessly, especially in the first and last "allegro"
movements. Her "recitativo" offered clear verbal articulation of the Latin, and the third movement, "andante", Anthony succeeded with a serene legato, approaching operatic lyricism. Her intonation was splendid.
The vivacious Soprano brought out Mozart's exuberance in the final "Alleluia", just as she clearly enjoyed singing the sparkling opening movement........Anthony's rich voice and singing agility left the audience wanting more.."
C.J. Gianakaris, Kalamazoo Gazette
---
Fliegende Holländer
Barcelona, Gran Teatro del Liceu
Susan Anthony's youthful interpretation of Senta was both intense and touching. Her clear soprano voice convinced in both lyric and heroic passages to give a truly believable heroine.
Barcelona, April 2007
---
Salome
Concertgebouw, Amsterdam
De aangekondigde Salome-vertolkster had zich wegens ziekte moeten laten vervangen door de Amerikaanse Susan Anthony. Een blonde, ranke verschijning in zwarte robe met split, die al jaren thuis is in dit zware repertoire. Achter haar lessenaar stond Anthony niet alleen heel gedreven te zingen, maar ook een potje lekker te acteren. Na de vervloeking ging zij, terwijl het orkest achter haar bulderde, heel speels als een poesje op haar atoel zitten. "Ik Vervloekt?" Het lutke Anthony niet om hier de ultieme keel op te zetten, maar haar slotscene, die gruwelijke vrijscene met het afgehakte hoofd, wist zij puur vocaal heel geloofwaardig te maken...
Trouw, Feburary 21, 2007
---
RICHARD WAGNER FESTIVAL WELS
Der fliegende Holländer
Den Holländer sang Hartmut Welker mit sattem, faszinierendem Bariton. Der Sänger verstand es, die Einsamkeit und Introvertiertheit des ruhelosen Seefahrers auch in seine Stimme zu legen. Als Gegenpol überstrahlte die dynamische Senta von Susan Anthony mühelos die Ensembleszenen und hatte auch sehr schöne lyrische Momente. Ein Höhepunkt des Abends war das berührende Duett, in dem der Holländer verhalten seiner Hoffnung auf Liebe und Erlösung Ausdruck verleiht, während Senta sich glühend in heroischer Aufopferungsbereitschaft verzehrt.
Das Opernglas, 9/2006
---
Die Tote Stadt
Barcelona
"A Revelation"
Susan Anthony offered a magnificent adaptation, The artist was a revelation for the characterazation of her roles as Marietta-Marie. Her interpretation combined more than sufficient voice with memorable drama.
La Razon, Barcelona, 15.4.06
The Marietta of Susan Anthony gave us dreamy moments of great personality! Sometimes a keen tyrant, and others lyric. Very impressive.
ABC, Madrid, 15.4.,06
Susan Anthony as Marietta surpassed all heights with moments of great intensity and beautiful vocality.
El Pais, Barcelona,15.04.06
---
Der Fliegende Holländer
Unter den Linden
Das neue Opernjahr fängt ja gut an: Mit einer Aufführungsserie von Richard Wagners Der Fliegende Holländer Unter den Linden. Der Staatsoper ist es gelungen, die wunderbare Susan Anthony als Senta zu verpflichten. Die junge Sopranistin aus dem US-Bundesstaat Michigan ist derzeit die absolute Idealbesetzung für die Rolle der willensstarken Kapitänstochter. Sie hat nicht nur die nötige dramatische Durchschlagskraft für die heikle Partie, sondern sie gehört auch zu den wenigen Sängerinnen, die sich voll und ganz mit dem Seelenleben der Bühnenfiguren identifizieren - und damit jedes Publikum fesseln. Darüber hinaus sieht sie auch noch so gut aus, dass man Stephan Rügamer gut verstehen kann, wenn er als ihr Verlobter Erik um Senta kämpft.
(Der Tagesspiegel, 6.Januar 06, Frederik Hanssen)
---
"Verdi's 'Requiem' stirs the soul"
"This master of operatic story telling also used music to suggest a narrative within the Mass bringing everything to a climax with the final section, the "Libera Me" in which the souls cry out for deliverance. Chief amoung those souls was soprano Susan B. Anthony. Her voice - so strong, so clear, so precise - passed like a beam of sunlight through the thunderheads of Verdi's orchestation."
Chris Waddington - Times Picayune - May 21, 2005
---
Fidelio In Hamburg
Lob Für Leonora
"Die Stimme von Susan Anthony verfügt über eine berührende Wärme, klingt nie angestrengt und füllt doch das nötige Pathos aus."
Opernwelt/ April' 04
"Die Amerikanische Sopranistin Susan Anthony war eine wunderbar , strahlkräftige,bewegene Leonore, die zu recht Sonderapplause bekam."
dpa/Musik/Oper/ April '04
"Susan Anthony als Leonore singt die höllenschwere Partie mit Sicherheit, Verve grosser Bewegtheit. Eine eher innerlichliche Darstellung, die wunderbar einherging mit Neunfels' Traumbild für die grosse Arie."
Stüttgarter Zeitung 7.4.04
---
La Vaisseau Fantome
La Bastille, Paris
...tous furent dominés par la Senta juvénile et fragile de Susan Anthony, aux aigus lumineux, á la voix placée haut, dans la tradition des chanteurs nordiques, rappelant la jeune Flagstad.
Jean-Charles Hoffelé - Le Journal, Dec. 2003
---
Salome
Berlin
"....Freyer, like Strauss, puts great emphasis on Salome's youth ( helped buy the excellent singer- actor Susan Anthony) and sees a parallel between her burgeoning confused sexual awareness and her desire to have things - the way a spoilt child has to have what it wants...and now... Susan Anthony does take us back to Strauss, but to the Strauss who tried vainly to talk the likes of Elizabeth Schumann and Jarmila Novotna into taking on this part. Anthony's voice is bigger than theirs but she is not quite yet the classic "heldensopran". Her musicianship, however, is exemplary, her ability to pace herself beyond doubt, and she delivers at the big , killing moments. Her repeated demands for the head were fearless and flawless, and she was in no way overwhelmed at the final crazed apotheosis."
OPERA/ July 2003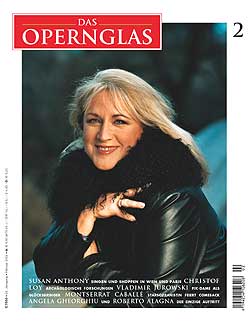 Opernglass issue